Bí Products are exotic, ethical, local and ready for Christmas!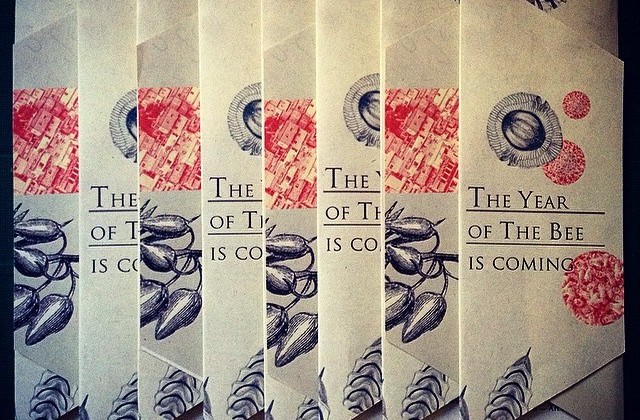 This Christmas, desireland's exotic artisan products, made in Stoneybatter Dublin 7 from locally foraged ingredients, will feature the health promoting properties of Bee Pollen, Propolis and Honey to announce 2015 as the Year of the BEE.
Contrary to what you might imagine, honeybees thrive in the city and produce almost twice as much honey as they do in the countryside where monoculture and chemical sprays effect their productivity.
To highlight this issue we have concocted a very special scent for this edition which features the essential oil of lemongrass, used by beekeepers to emulate the queen bee's unique citrus scented pheromone, and selection of herb and flowers oils to represent the diverse of unsprayed foraging material bees thrive on in urban communities (Rose Geranium, Ginger Grass, Clary Sage, Sweet Fennel, Neroli, Lime, Lavender, Bergamot and Coriander).
Bí products have been produced to support Lifeline Project Bí, a year-long project which will see Dublin's Northwest Inner City transformed into a centre for urban beekeeping.
Bí is the first project of the Lifeline, a large-scale project-based initiative which will promote the sensitive remediation of Dublin's Northwest Inner City over the next ten years, providing new educational and employment opportunities for residents and reinvigorating the profile of the area through a series of ambitious projects which will make imaginative use of neglected resources.
Bí will transform deserted brownfield sites into outdoor classrooms to provide accessible beekeeper training for local residents; create a 'Science Shop' for the Dublin Institute of Technology and local schools; commission research to address the flagging bee population; and develop products that promote the health benefits provided by bees as fellow residents in the urban environment.
All proceeds from the Bí range of products will go toward funding our 2015 programme of bee themed public workshops, exhibitions and events. To find out more about The Lifeline and Bí visit www.desireland.ie and Lifeline Soap on Facebook.
Bí artisan soap, foot soap/soak, seed bombs and exquisitely wrapped gift packs will be available in several Dublin 7 locations during the month of December:
Manor Health
Stoneybatter
https://plus.google.com/112933849337411493710/about?gl=ie&hl=en
Block T Christmas Market
Smithfield
December 4-6, 11-13, 18-21 http://www.blockt.ie/BLOCK_T/HOME.html
Christmas Cracker Flea Market
Smithfield
December 12 – 14 http://dublinflea.blogspot.ie/
Lilliput & Friends MADE IN STONEYBATTER – The Christmas Hamper Edition
The Work & Welders, 53 Arbour Hill
December 20 – 23 – 12 – 4 pm http://www.lilliputstores.com/
We welcome direct orders from individuals and organisations
Please contact:
Kaethe Burt-O'Dea
kaethe@desireland.ie
+353 (0)872 444 185