Lifeline Project Bí & the Bait Hive Initiative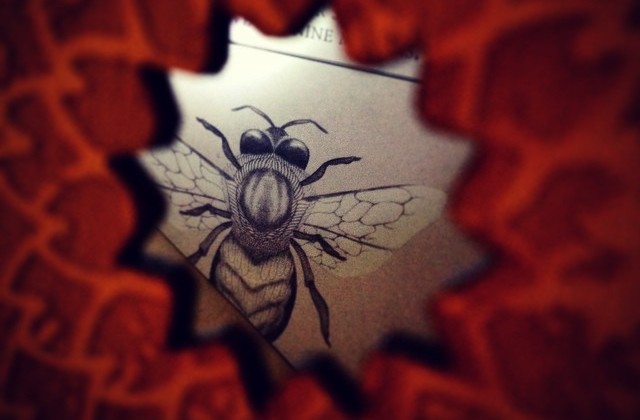 Bait Hives are enticing things. Every summer, as bee hives reach capacity, new swarms have to break away and found new colonies. For beekeepers this is an opportunity. Bait Hives are man-made devices: constructed hives designed to attract new swarms in search of a home.
For two weeks in August, hundreds of design students arrived in Dublin for a design summit, the MEDS 2014 Global Green. As part of the summit, desireland teamed up with Gearoid Carvill of abgc architects, and with seven self-elected students set out to design a strategy for the launch of the Bí project in 2015. This involved the design and planned integration of Bait Hives across the northwest inner city to capture public imagination and entice both bees and people to participate. See more images on our facebook album of the project
These seven students came from Romania, Germany, Belgium, Czech Republic, and Canada. They were given the lowdown on the Lifeline and our forthcoming Bee Life project. We talked about the democratic nature of bees, their importance to our ecosystems, and the benefits they provide for our health. Together we also visited Kilbarrack Fire Station, where an enterprising group of fire-fighters has created a surprising suburban centre for biodiversity, including a cluster of bee hives retrofitted into the station grounds.
After a creative, dynamic fortnight, the students created elegant, simple Bait Hives, flat pack designs laser cut from light plywood, which were part of a one-day design exhibition at Hendrons Collider in Broadstone on 23 August 2014. The students trialled their protptypes in Dublin to obtain feedback from the public and have taken them home to canvas responses in other countries. These Bait Hives are now being seen in Romania, Germany, Belgium, Czech Republic, Spain, and Canada. And we have managed to reach a network of bee enthusiasts across Dublin too: hobbyists, firemen and designers as well as the members of the Federation of Irish Beekeepers' Associations. All are agreed that now is the time for an urban beekeeping centre in Dublin. Bí will see this happen in the northwest inner city in 2015. Follow this link to view our Facebook Album of this summer's Bait Hive Initiative.
The Year of the Bee is coming.
Bí will use currently deserted brownfield sites to provide accessible beekeeper training for local residents; create a classroom and 'Science Shop' for the Dublin Institute of Technology and local schools; commission research to address the flagging bee population; and develop products that promote the health benefits provided by bees as fellow residents in the urban environment.
Bí is the first project of the Lifeline, a large-scale project-based initiative which proposes the sensitive bio-remediation of the Northwest Inner City of Dublin over the next ten years, providing new educational, healthcare, training and employment opportunities for residents and reinvigorating the profile of the area through a series of innovative projects which will make imaginative use of currently wasted resources.
Keep an eye out for Lifeline Urban Bí Soap this Christmas. This luxurious artisan soap made in Stoneybatter Dublin 7 from locally foraged ingredients will be packed full of bee pollen, propolis. honey and essential oils to emulate the scent of the Queen Bee and sooth even the most sensitive skin. All proceeds will go toward funding our 2015 programme of bee themed public workshops, exhibitions and events.