Sourcing non-gm naturally blight resistant SPUDS in 2013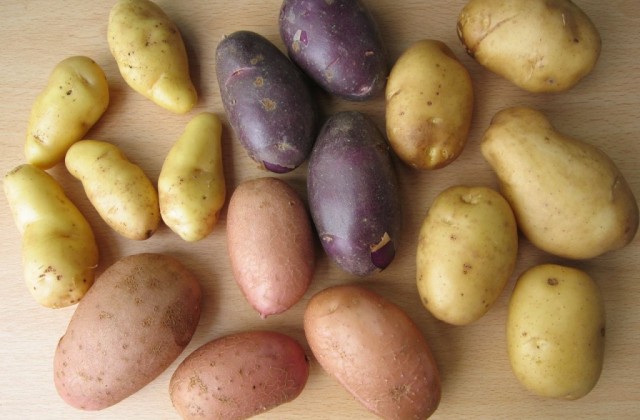 Many people are asking us where they can buy blight resistant potato seed this year. These potatoes are readily available off the shelf from many retailers including: The Organic Centre, Fruithill Farms, GIY Ireland , The Secret Garden, and  Irish Seed Savers (free with membership while supplies last!). In fact many mainstream garden supply shops carry blight resistant varieties, for example Mr. Middleton sells the varieties we gave away last year: Sarpo Mira, Axona and Blue Danube.
We recommend ordering/buying ASAP…Our preliminary findings show that 95% of SPUDS growers who trialed resistant Sarpo varieties in 2012 would like to grow them again this year and due to the unusually difficult growing season last year potato seed will be limited.
If you are interested in trailing larger quantities of blight resistant seed you will need to MOVE FAST, stocks are dwindling!
Are you an organization or commercial grower or even a GIY group who would like to buy in quantity and save money for your members?  Fruithill Farms sell blight resistant varieties in 25 kilo bags and ships countrywide. They also can help you read your soil tests and advise on soil improvements to help boost your potato production and are more than willing to answer specific questions about these varieties which they have supplied to commercial organic growers for many years now.
A recent entry on Greenside Up's blog: "Will You Ditch the Chemicals and Choose Blight Resistant Potatoes This Year?" includes a useful table listing resistant varieties which has been extracted from the British Potato Variety Database. This comprehensive source provides information on both foliage and tuber resistance to blight as well as many other characteristics of the listed varieties. This is useful because some potato varieties, the Blue Danube for example, have foliage that is less resistant to blight but tubers that are extremely resistant. If these varieties contract blight you should wait until apx. 10% of the plants are effected, then cut off the tops and leave the tubers in the ground for 3 weeks to allow the spuds to  mature and avoid spreading blight spores.
There are at least two blight resistant varieties that came up last year in our study which are not on this table:
Bionica: An early main crop variety which has high blight resistance and is grown commercially and sold by Keoghs of Oldtown. Fruithill Farms carry this variety.
Tibet: The story is that this variety traveled to the UK in the pocket of a traveler returning from Nepal and has gradually made it's mark as a flavorsome blight resistant variety. Organic grower Dermot Carey raves about this variety which was still flourishing and flowering in one of his gardens into November of last year. Irish Seed Savers have limited stocks of this variety available with membership.
If you are retailing naturally blight resistant spuds, or know of a supplier we haven't mentioned, please send us contact details so that we can update our information!