The Sitric Picnic 2014 – Our 10th Birthday!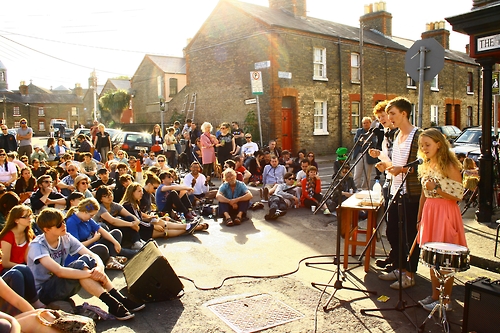 The 10th Sitric Picnic will take place in June 15th this year. This annual community street event began in 2005 when the newly established Sitric Compost Community Garden won a small conservation grant for their urban composting project and proposed the promotion of composting at biannual street parties. Since then we have held two street events each year at the foot of Sitric Road where it meets Arbour Hill, the Sitric Picnic (June) and the Sitric Soup (October). These parties quickly became a huge local success and have been featured by Dublin Innovation Week, Dublin Social Inclusion Week and were the inspiration for for Street Feast, a project that promotes the benefits that local street parties can have on the development of community spirit.
The  organization of the Sitric Picnc is voluntary, a collaborative effort that brings together local residents, the Joinery, Lilliput Stores and other local businesses and cultural organizations who provide support. Entertainment draws on local talent and the sumptuous spread of food that continues to magically appear throughout the day is contributed by those who attend.
If you live in Stoneybatter and would like to get more involved in the organization of the Sitric Picnic, or have a skill you would like to contribute this year, why not get into the heart of it by becoming a member of the Sitric Picnic Organizing Group on Facebook. We have been meeting for the last few weeks and have cobbled together another eclectic mix of activities for the afternoon, everything from laughing yoga to a potato race to swing dancing. The Music will include a soulful selection of tunes from our resident DJ Nick Ryan and live sets from Blues guitarist Ben Prevo and his friends the Keanettes!
If you are not a facebook fan we understand! You can contact us via the contact page on this site or check the Sitric Compost Garden noticeboard (on the corner of Sitric Road and Viking Place) for announcements.
View images of Sitric Picnic 2013 here.
Category: The Sitric Garden · Tags: community gardening, community spirit, DIY, food, GIY, mixed use spaces, recipes, self organizing, skill share, social capital, social inclusion, Street Parties, usability