A mile long exhibition that generates Energy?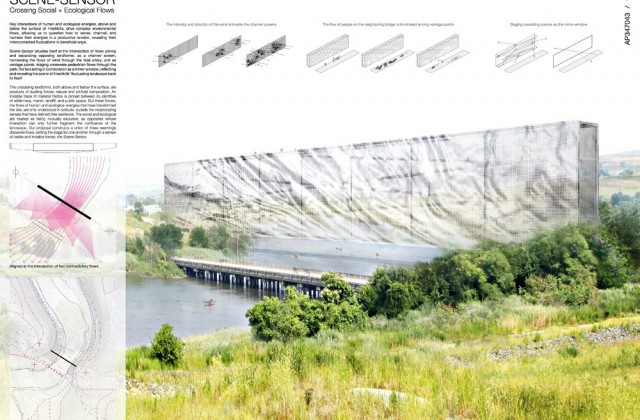 A collaborative project between New York City Parks Department and the Land Art Generator Initiative, currently on exhibition at the 'Arsenal' Building, 64th Street and Central Park East, New York City, provides an example of the diverse potential the LIFELINE PROJECT offers northwest central Dublin. Could the Broadstone to Broombridge cutting become the site for a mile long exhibition of art installations that generates energy? The Land Art Generator Initiative helps us visualize what this might look like on a grand scale.
"The Land Art Generator Initiative provides a platform for innovative ways of thinking about what renewable energy generation looks like and how it relates to the overall fabric of our constructed and natural environments. It calls on interdisciplinary teams to conceive of large scale site-specific artworks that provide renewable electricity to the city at a utility-scale (equivalent to the demand of hundreds or even thousands of homes). Once constructed, these public infrastructure artworks will offset thousands of tons of CO2 and provide iconic amenities that will serve to educate and inspire the communities in which they are built."
"At 2,200 acres, 
Freshkills Park 
will be almost three times the size of Central Park and the largest park developed in New York City in over 100 years. The transformation of what was formerly the world's largest landfill into a productive and beautiful cultural destination will make the park a symbol of renewal and an expression of how our society can restore balance to its landscape. In addition to providing a wide range of recreational opportunities, including many uncommon in the city, the park's design, ecological restoration and cultural and educational programming will emphasize environmental sustainability and a renewed public concern for our human impact on the earth."
The Land Art Generator is an inspiring international competition pitched to produce large scale site-specific artworks that provide renewable electricity to the city at a utility-scale. These ambitious proposals will require extensive prototyping and financial investment to be realized, much to the frustration of Staten Island residents who dream of seeing some of the Freshkills proposals come to life. In comparison, the LIFELINE PROJECT is rooted in the heritage of  a very different site, the Midland Great Western Railway cutting, which transported food into our city markets. As the main transport link to the new DIT campus at Grangegorman, this site begs for a very different aesthetic, featuring the integration of  research and learning into the urban fabric and an exhibition space devoted to prototyping ideas for distributed energy generation as part of community life. The brief is as much about creating efficiencies as technology, and the role that urban lifestyles (and food) play in global energy consumption.