Guiness Projects Award
In 2013 The Lifeline Project won a Guinness Projects 2013 award in the Arts Category.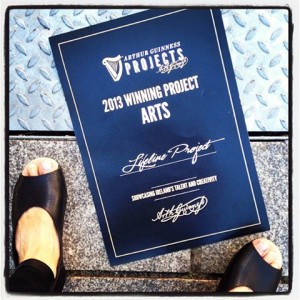 The Proposal
A mile long playground connecting nature, people, and place to bring life back into the city.
The Lifeline Project challenges our preconceived notions of the urban commute. It asks us to imagine the Luas BXD traversing a vibrant multifunctional corridor animated by walkers & cyclists, living walls, a circus school, edible forest garden, a city farm, ecological technologies, beekeeping, a bioremediation workshop – A living laboratory promoting active partnership with nature.
The project proposes the sensitive regeneration of the disused Midland Great Western Railway (MGWR) cutting, Broadstone to Broombridge Dublin 7, into a productive green corridor, public amenity and inter-model transport link. Project interests include urban agriculture, biodiversity, eco-tourism, green transport and innovative models of health-care, recreation, and waste management.
The historical background to the MGWR cutting and The Highline, the famous floating park in New York City, are very similar. Both railways transported cattle to city markets, fell into disuse, and were reclaimed by nature over time. But regeneration requirements for these two sites are very different. Unlike the Highline, the MGWR is destined to house the Luas BXD, providing a critical link to the new Dublin Institute of Technology (DIT) Grangegorman Campus. In the Grangegorman Development public consultations participants called for a car free campus, 50%+ green space, allotments, pocket parks, walking/cycling/sports facilities, and opportunities for lifelong learning. Could the MGWR site be stretched to accommodate the Luas plus all these needs and create a template for future urban design? In partnership with desireland, DIT students have been playing with this concept for 5 years under the DIT Students Learning with Communities Programme. Surprisingly, the limitations of the MGWR site have inspired a diverse range of creative multidisciplinary projects that explore transitional strategies and the productive use of residual land to enhance levels of public health & wellbeing.
In 2010 we began experimenting with industrial ecology, the use of waste as a resource in product development.  Our first product, Lifeline Soap, revives the soap making tradition of North King Street. This exotic artisan soap, handmade in D7, contains wild herbs foraged on the MGWR and high quality vegetable oils discarded oil from the Real Olive Company making it particularly suitable for sensitive skins. We aim to develop this innovative brand into a full range of eco-cleaning products, to fund our project while saving DCC considerable drain maintenance costs.
Our next project will promote a non-invasive form of urban agriculture that enhances biodiversity and health. Local Honey offers natural antibodies for pollen triggered illness. Bees take residence as high as 20 stories and colonies already harvest the rich biodiversity flourishing on the cutting. Hives could be retrofitted onto bridges and buildings along the line. Interest in beekeeping is on the rise. The Fingal Beekeepers are looking for a training site, but the expense of the equipment is a deterrent. Could students design a flat pack hive using recycled materials?
The two artists who originally dreamed of a floating park in New York City had no idea what they were in for. They spent 13 years building their vision for the Highline against substantial odds, raising $150 million in the process. In contrast the Lifeline concept proposes the productive use of local waste streams (people, space, materials, systems) to fund its development and generate employment.  Since writing the original concept for the Lifeline in 2008 we have developed the project vision without the benefit of funding. This lean process has pulled together a strong network of collaborators and a lively community of interest.
With five years of research under our belt the Guinness Projects Award will provide the resources we need to officially launch this project into the public realm. Funding will support a community led process where local ideas are given a platform, played with and evaluated in a project that will be built to last, converting waste into treasure, over time.