SPUDS campaign to re-brand St. Patrick's Day as National Potato Day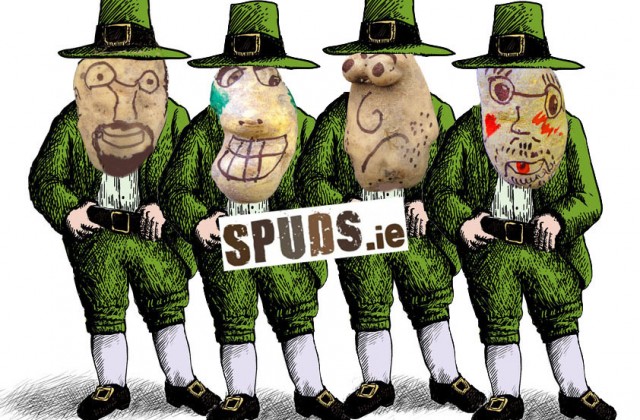 The idea was put to us by a contributor to our SPUDS forum and we think it makes complete sense! Traditionally, St. Patrick's Day is the day to plant your potatoes, but in recent years the emphasis on street festival and the pub has sidelined this family centered celebration of spring.
We all know the Irish drink too much anyway, so we are suggesting that St. Patrick's Day be re-branded as National Potato Day, with an emphasis on our national hero, the SPUD, downgrading the pint to a supporting role, as the celebratory liquid used to toast the effort spent in planting and playing with SPUDS!
As you can see in the featured image, potatoes make an excellent substitute for the Leprechaun. In fact, when I first moved to Ireland back in the mid 1970's, during the time when moving statues were commonplace, I remember a prominent media story about the discovery of a dead Leprechaun in a small town somewhere in Ireland. The tiny wizened body, dressed in a minutely detailed suit and hat, was laid out in a glass case in the front room of the family home where it was discovered.
For several weeks people traveled from all over the country and paid to view the phenomenon until it was discovered that the leprechaun was actually a shriveled up oddly shaped potato! Based on the fascinating output from our SPUDS Character Workshops last year, we are convinced that there is great millage to be had in this identity exchange and we are engaged in high level meetings with the Leprechaun Museum on the subject of potatoes as Leprechaun impersonators.
Our campaign has supporters from all over the globe. Here is a convincing argument from Karen Alloy , a campaigner from Minnesota USA, who provides us with a riveting history of the SPUD. Her high speed tour also touches on a subject close to our heart, the post famine horticultural development of naturally blight resistant varieties.
Help us kick off the campaign this year. We include some suggestions for activities to get you thinking below, but we are confident that you will come up with some better ideas:
Run a SPUDS character workshop with your kids and their friends. Pick out some oddly shaped potatoes, make them into characters (colouring, peeling, carving, etc.), dress them up as Leprechauns and wear them to the parade. Or, why not create your own parade!
Meet up with your GIY pals and plant a patch of SPUDS in your community garden or allotment. Collect a range of blight resistant potato varieties and hold a potato seed swap.
Volunteer to help a farmer plant some spuds and bring a chocolate potato cake for tea!
Invite the neighbours round for a pot luck dinner made exclusively out of SPUDS! See the Daily Spud for recipe ideas!
Engage in a guerilla potato planting party and bring a neglected piece of ground back to productive life using the Sheet Mulch Technique and organic waste sourced locally.
Get your street to run a spud & spoon race and other potato related games. Reward your guests with a simple inexpensive, but nutritious, feast of baked potatoes served with a selection of toppings which you invite participants to bring to the event. Provide a prize for the best topping.
We welcome your suggestions as to how we should take our campaign forward! Please post your comments below or enter a topic for discussion in our SPUDS forum. Next year we intend to demand our place in the Parade and continue our fight for the potato's equal right to St Patrick's Day!
Let us know what you get up to and send PHOTOS!
Sure, there's nothing to lose, and a healthy harvest of fun and SPUDS to gain!